Stephen King is one of the few authors who publish a new novel every year and still makes a big impact. And the saddest fact is, I've only read another novel from him. I still have a long way to go but I was super excited to read it when I received this copy from Simon&Schuster !
THE PREMISE
The novel starts off with a gory crime description (very graphic) and we follow the investigation from the Detective Anderson files and interviews to see what happened or why it's so complicated. Indeed, all the witnesses and evidences point out to one specific guy : Terry, a coach loved by so many people in town but that is not possible because Terry has a very strong alibi, he was going in a conference in another city while the crime happened. In an event where his 4 other friends went and more than 100 people saw him attending the event and the supper that follows.
THE ART OR RAMBLE OF STEPHEN KING:  A QUESTION OF PERSPECTIVE
Like IT , you would notice that Mr King has a very special writing style. He can write about some concept and drag it to 200-300 pages. This is why I must warn you: this is a question of perspective. Some people love it and some people just don't see the point why he has to do that. Then there's me, a little bit in the middle. For this book, I like the fact he builds the suspense and provide us with a lot of details BUT I have to admit that sometimes I just skip some paragraphs because I noticed how irrelevant it is hahah. 
THE STRENGTH OF THE NOVEL 
What I love the most about The Outsider is the characters and I guess this is where the long descriptions came into play. He makes every single character authentic, if he wants us to hate someone we would, if he wants us to be mad at someone, we would. They are so raw and real. And sometimes you tell yourself: WTF THIS IS SO UNFAIR. Well guess what, the real life is like that. The justice system is not always fair. 
"People are blind to explanations that lie outside their perception of reality." 
THE WEAKNESS OF THE NOVEL – IS ALSO A BIG ASS SPOILER SO YOU SHOULD SKIP THIS IF YOU WANT TO READ THE BOOK 
 After 250 pages (half of the book), where you follow a very confusing investigation and try to solve this puzzle and you keep wondering omg what is the genius behind this murderer? How did he do it?!And then.. he hits you with.. it's..supernatural BITCHES.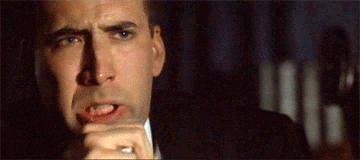 I've read a lot of reviews where they send that's a recurrent theme in Stephen Kings' novels LOL Where he would put you through an excellent book only to disappoint you with the ending. Did this happen to you before?