I've read The Last Wish 2 years ago and honestly loved that book, I should definitely read the sequels to see what it's like. I was very excited when I learned that the Witcher is coming on Netflix, you can check out the trailer below:
TO START OFF…
To start off, people thinking that it's a Game of Thrones knock off, this book series were released way before A Song of Fire and Ice  so..
Second, you shouldn't compare this to Game of Thrones because they have very different messages and elements. Where Game of Thrones are more about families and variant characters plot lines and a few dragons and maybe a witch, The Witcher is all about one independent character trying to defeat Destiny and monsters living in a world full of elves, giants, monsters and a lot more witches and wizards than Game of Thrones. 
MY REVIEW
Set in a medieval society where magic is quite common, we are introduced by the first scene to a Henry Cavill as Geralt of Rivia fighting off a big spider monster in a smoky pond. It started off great, it grips the spectator right away and as the journey continues, I believe that Henry Cavill did a pretty good job in this role.  Geralt appears to be a cynical and apathetic character, however, when a close friend needs help, he can be loyal to the end.
THE ATMOSPHERE
The dark personality goes along with the overall tone of the show, it reveals that it's not the fairytale we are expecting. You are going to see some nasty creatures in these episodes and a lot of butchering. Netflix never shies away from violence when it needs to be.
I think for the most parts, the series did the book justice by staying close to the plots and quests. The side characters are also very interesting, my favourite dynamics are Yennefer and Tissaia, the master and the student who keep pushing each other to their limits.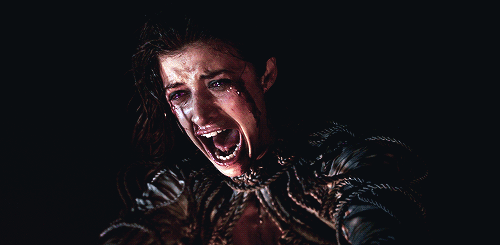 However, it would be even better if they took time to transit the audience into proper progression of Yennefer's control of power. She appeared to have really weak control but somehow still emanates a lot of power and energy, but we don't get to really see how she became the most powerful sorceress. In the end, she just is. But other than that, I'm living for all the women-can-fight moments in this show 😉
SIDE NOTE
Jaskier is such a nice addition to the show, funny and quirky character that gives the show a nice humour and light touch. And now YOU CAN TOSS A COIN TO YOUR WITCHER 😉